This store requires javascript to be enabled for some features to work correctly.
"Bamboo Dragon" Inked BAM SHIFTS!
Made from bamboo, standing at 5" tall, and weighted at 375 grams these are sure to make your interior stand out as well as being functional while shifting through the gears!
Please note, bamboo may differ slightly from bamboo pictured since its a natural product and handcrafted.
If you have any questions, please do not hesitate from messaging us.
Each Bam Shift is handcrafted to make you happy while shifting through the gears. We guarantee all our products, if your not happy or something happens we will replace it for free.
Customer Reviews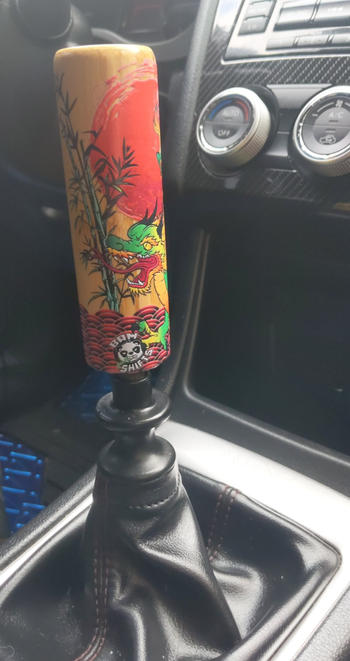 04/03/2021
Love it.
It's my main shift knob. Everybody asks about it when they see it. Very pleased. Thanks.
Caroline W.

United States
08/01/2022
Amazing
So good my boyfriend is literally in love with it and made an amazing birthday gift for him
04/07/2022
Top Tier
I bought this shifter as a Christmas gift for my boyfriend and he absolutely loved it! The shifter is made of high quality materials and looks exactly how it does in the pictures. It was also really easy to install and just works great. Everything about it is top tier and I would 100% buy a shifter from this company again.
Gabrielle M.

United States
Add a couple of accessories to make your interior stand out
BAMccessories